Stamped Concrete Driveway Designs In Stone
Have you ever considered your plain grey driveway as a blank canvas for artistic expression? Your driveway is an important part of your home's appearance and should contribute to its overall appeal. Adding stamped concrete enhancements is a great way to spruce up your plain concrete driveway in London without breaking the bank. Our team at London Concrete Pros can add realistic stone finishes to your driveway that resemble slate, cobblestone, flagstone, brick, and tile at a fraction of the price of the real materials.
Dress Up Your Driveway With Faux Flagstone
Flagstone driveways are the most popular choice among homeowners who want their homes to stand out. Individual flagstones have distinct patterns with subtle colour and textural variations, allowing you to create exclusive, elegant driveways and courtyards. Concrete can be used to replicate flagstones at a fraction of the cost of the real materials. Even the colours and textures can be recreated.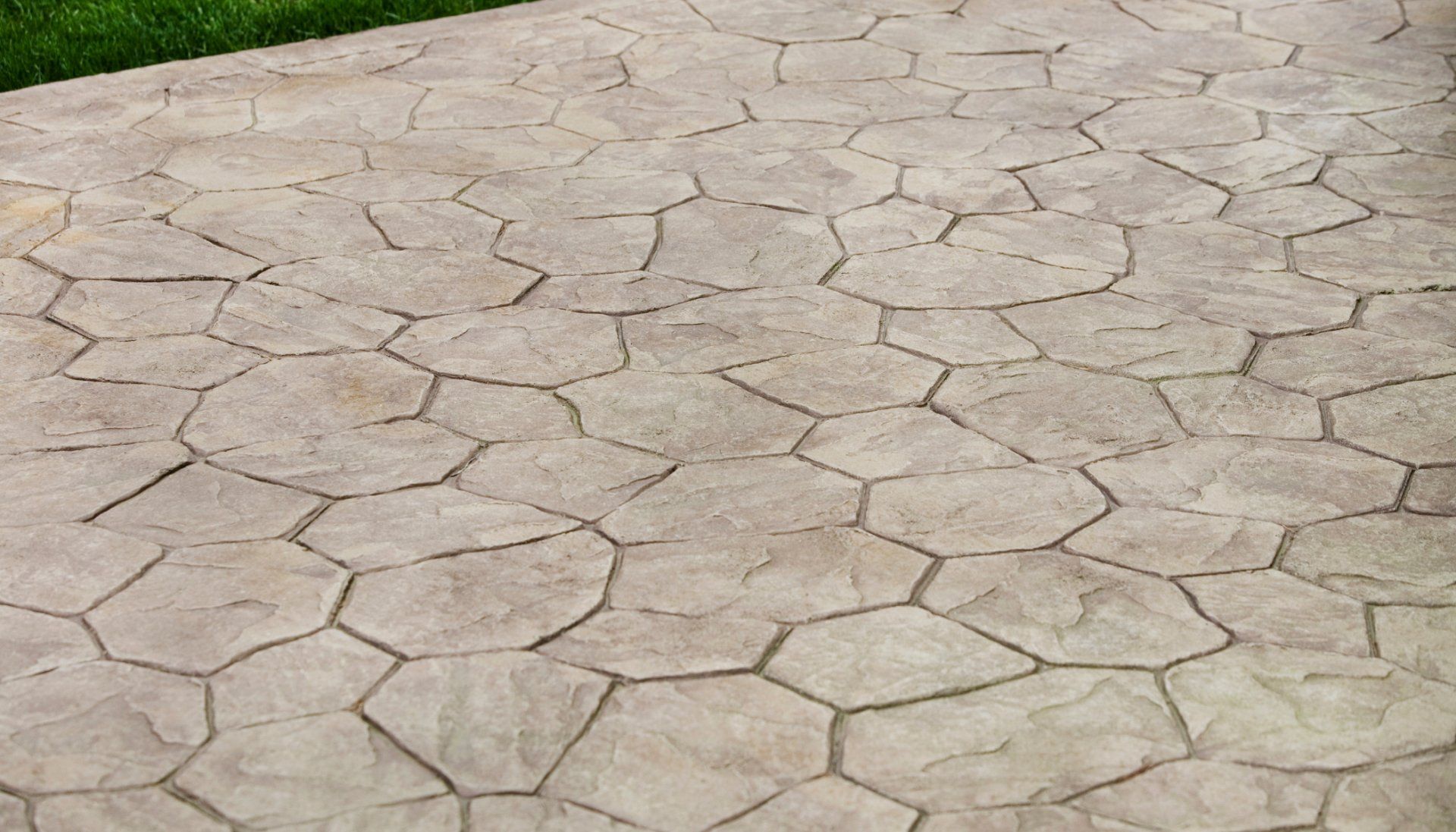 Downside Of Using Real Flagstone
However, real flagstone has its own set of challenges, beginning with the high price and installation costs. When laying flagstones of varying thicknesses, extensive site preparation is required. Contractors also have to consider obtaining enough of the right sizes and colours to complete a large driveway, as well as the additional work of cutting large natural flagstones down to size to fit the proportions of a small driveway.
When it comes to creating a real flagstone look out of concrete, our contractors can achieve the look by resurfacing an existing driveway. We then use stamps or hand carve the flagstone design to replicate real flagstone materials such as sandstone, quartzite, bluestone, and limestone.
Make A Statement With Fast And Affordable Texture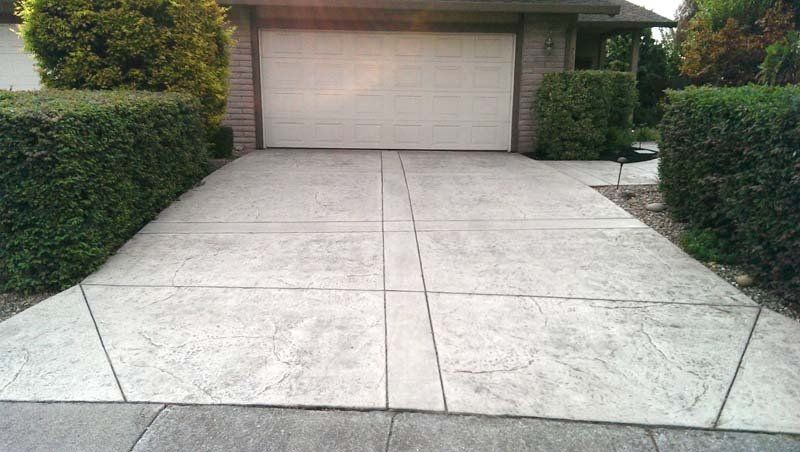 Another popular look for concrete driveways is textured slate. Slate, like flagstone, can be quite expensive but lacks the durability to justify the cost. Slate-stamped decorative concrete mimics the look of slate with its patterns and natural colour variations, as well as the option to outdo Mother Nature with a unique driveway colour.
Stamped concrete moulds create realistic slate texture that can be used as a stand-alone design or combined with stamp designs such as Ashlar slate, herringbone, hexagon Roman slate, or custom saw cuts to create the look of over-sized tiles or other designs. Stamped concrete can be added to an existing concrete driveway with a resurfaced concrete overlay to cover any imperfections or installed on a new pour before it hardens
Make A Statement With Fast And Affordable Texture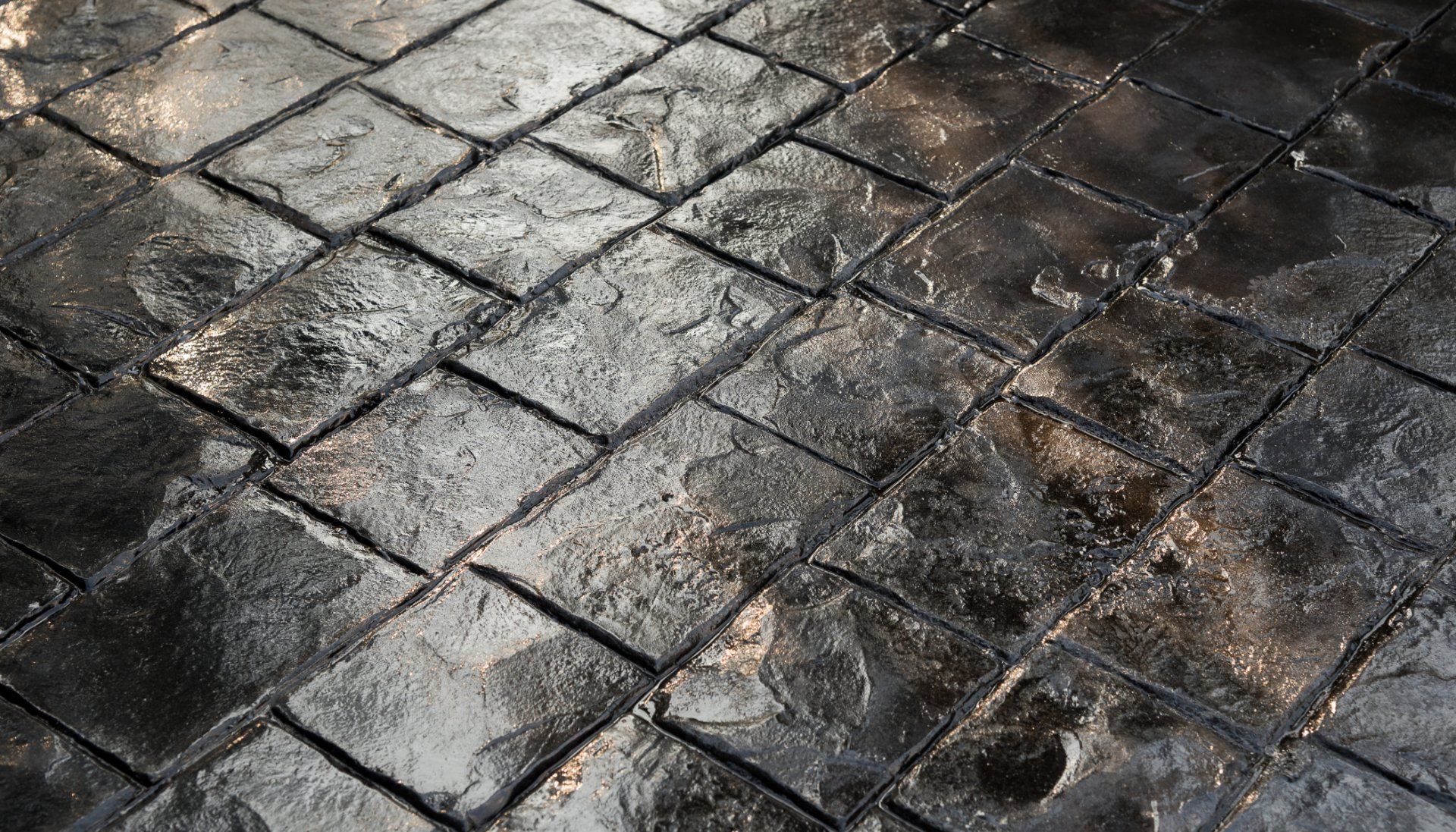 A cobblestone driveway that resembles a village square will add some international flair to your landscape. Gray is the most popular colour for cobblestone designs, and our stamped concrete patterns and custom concrete stains can replicate the look of genuine cobblestone pavers in your preferred shade of grey or other earth tones. Unlike real grouted stones, the integrated grout lines never crumble, need regrouting, or need to constantly be resealed to keep invading grass and weeds at bay, reducing time-consuming maintenance.
Save Money And Time With Concrete Driveways
You don't have to wait or save any longer if you've been putting off refurbishing or updating your driveway because you were waiting for stone. You can indulge your love of stone with a beautiful, long-lasting faux stone concrete driveway using decorative concrete overlays. You can have the driveway of your dreams in just a few days, whether it's flagstone, cobblestone, slate, brick, or pavers! Don't give up if your driveway appears to be beyond repair. We have exclusive repair and restoration products designed specifically to rescue bad concrete with overlay systems that will significantly extend the life of your concrete.
For more information, contact our London concrete contractors today! You'll find that we have the perfect solution for whatever ails your driveway. Call now at 226-777-8783 .